[Todd writes] Mandolin finally slows down. Since the Marquesas the longest we have stayed in any one place has been about 10 days. We have now been in Tonga for over two weeks. The other day we were walking on a chalk white beach with palm trees and light blue water. Mandolin was sitting just off the beach without a wave in sight. We looked at each other and commented "This is what everyone has been thinking we have been doing for the last 5 months." Never mind the big waves, wind, rolly anchorages we had to endure to get here.
Ofu, a small out island in the Tonga group has sucked us in. I knew we would like it here when I first rowed ashore and many of the childeren greeted me at the beach. These are not your average kids. Instead of asking for candy and gifts of money as we have gotten used to in Mexico and French Polynesia, these kids wanted pens and pencils. After I understood properly what they wanted then next message was that they wanted to show me their school and in fact to come to school tomorrow morning. "Ok, and I will bring pens then" I was an instant friend. Next they showed me to where Veronica the Peace Corp worker lived and introduced us. Val, her Mom, is visiting and her father, Rich, is arriving tomorrow.
I took Ellen out to breakfast at a resort near the north end of the island where we had omelets and were given a papaya. Then off to school. A small building divided into two rooms, one for grades one to three and the other for four to six is home to about 40 students. They introduced us to the two teachers to whom we gave enough pens for each student. Thanks to Bob Lamberg for providing these. They gave us some local handicrafts they created and sang us several songs.
The next day I was over at the school again and talking to the instructor for the higher grades. They had been learning about magnets and todays lesson was supposed to be about compasses for navigation, but they didn't have any or the materials to make one. So I rowed back out to Mandolin and returned with our hand bearing compass, a few needles, wax and a container of water. I spent the afternoon helping to teach the students how to use the handbearing compass, then we made a compass by magnetizing a needle and floating it on water after rubbing wax on it. It took a few tries but I think the kids understood. I even taught the teacher how we plot our position on a chart using the hand bearing compass sights to islands or headlands.
That evening Rich, Veronica's father, arrived. The whole island came together and celebrated with a traditional Tongan feast. We were invited and ate some new foods. It was really special to see everyone so welcoming.
The next day we set sail for another island since we were signed up for yet another feast. The people of Ofu were sad for us to go. One boy had me wait ashore while he climbed a tree and nocked down some coconuts which he husked and gave to us. "One for Todd and one for Ellen."
After a short sail we joined several other boats and one mega yacht for a feast that evening. The childeren danced for us before dinner, then we ate foods cooked in an Omu, thier word for an earth oven where a fire is burnt in a pit to heat up rocks, then the food wrapped in leaves is put on and covered with more leaves and then covered with soil. This cooks for about two hours then it is ready to dig up, unwrap and eat.
After dinner we got talking with Ian the Captain of Dardonella. He was telling me about the computer problems they were having. So the next day I rowed over and was amazed at how small our 8 foot dingy looks next to a 121 foot Research Vessel/Yacht. We spent some time talking about options for their computers. Hopefully we will hook up in New Zealand where I can help them solve some software conflicts.
Back to Ofu where the kids were happy to have us again. Veronica and her family shared some fish with us for dinner then we chatted into the evening. Ellen and I walked on the beach in the morning and I spent the afternoon playing volley ball, duck duck goose, tag, Marco Pollo and a few other game with the kids.
[Ellen writes] The overcast, unsettled weather of the last few days had been keeping us from navigating the reef strewn waters between us and Kenutu island. While navigating through coral when the sun is out, one can see where the reefs are by changes in the water color. Lighter blue means reefs and darker blue means deeper, navigable water. When the sun hides behind a cloud, the water tends to be the same shade all over.
We woke to a sunny, gorgeous day and decided that Kenutu was calling. With Todd playing figurehead and reef spotter on the bow, I wove Mandolin between the reefs to lovely Kenutu island. As we were anchoring, a group of four people were dropped off from a local boat at this uninhabited island with boxes of gear and water.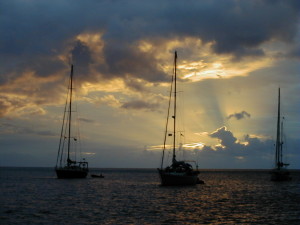 Being on the eastern edge of the Vava'u island group, the Kenutu anchorage also affords one the view of Pacific ocean swell cresting and crashing on the coral reefs to the south of Kenutu island. Those reefs, ya gotta love 'em. The surf crashed a hundred yards away from us, but only tiny wind wavelets lapped at Mandolin's hull.
The white sand beach enticed us ashore for a walk. There was no sign of the four people who had gone ashore earlier. After looking at the surf to the north of Kenutu, we began our walk back and were soon beckoned to the interior of the island by a small path. The small path led us to the top of the tree covered island. The walking was easy under the canopy of trees with little undergrowth. Our path soon petered out, but we continued on. Our difficulties began when we tried to descend back to the beach. The undergrowth became dense, inhibiting our progress. Amongst the bushes were vines, which seemed to enjoy grabbing ankles and legs. While thin, the vines are also strong enough to successfully resist pushing through them. Without our machete, we had to be careful to step over the vines. Then came the mosquitoes. Slow down for a moment and soon the insidious hum of mosquitoes will hover about you. And then when you get good and caught in the vines, something will start stinging your feet. You swat them away only to be stung more. Pausing for a moment, you take a good look at your feet and then yell at your spouse, "Let's get out of here! Run!" and then stumble through the vines and bushes as best you can. Ants. Little red biting ants. As Todd and I fought our way over vines and past bushes grabbing at our clothes, I began to feel like Snow White in the enchanted forest. But at least my handsome prince was suffering with me, poor Snow White was all alone.
Soon after the ants, the undergrowth opened up enough for us to see our way down to the beach. We staggered out from under the green forest onto the white sand beach and gazed thankfully at the turquoise and cobalt water. One of the only other four people on the island just happened to be walking toward us along the beach. Amazingly, we knew John from a day of diving we had done on a dive boat.
"Hey, I know you!" I said. "What are you doing here?"
"I'm camping on this island for a week with people who are studying the fruit bats," he replied after a few pleasantries.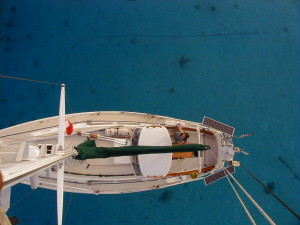 I looked out at Mandolin resting at anchor so nicely. I thought about mosquitoes, ants, tents and dirt. For the first time Mandolin didn't just look like a cozy cabin on the water; she looked like a palace. We rowed home. I stepped down below out of the sun, away from the mosquitoes, ants and dirt. I filled the teapot at the faucet, put it on the stove to boil, sat down on the setee and leaned back against feather pillows. Mandolin had welcomed us home into her refuge.
As I mentioned, we went out on a dive boat soon after arriving in Vava'u. Todd dove with the divers, while I snorkeled with the snorkelers. I was fighting an infection (more later, maybe) and wanted a more mellow day than dive equipment would allow. Along with two snorkels/dives with beautiful coral and fishes, we also visited two famous caves in this island group. The first was Mariner's cave. The entrance to Mariner's cave is three feet below water. The cave stays under water for 10 feet before rising out of the water to form a large cavern. For an excellent free diver like Todd, this swim presents little difficulty. For a nervous free diver like myself, a dark hole three feet underwater isn't something I feel like rushing into while holding my breath.
Todd disappeared down into the hole. After a few minutes he reappeared. "It's easy," he said. Right.
"Okay, you swim down and into the cave, and I'll swim down and watch you from the outside," I suggested.
I swam down and hovered outside the entrance while Todd darted past me and into the black, yawning hole. He swam in, turned, waved at me and swam out. Twice in and out and still alive. My rational mind knew there was no danger in the cave. But black holes under water are not the realm of the rational mind.
We agreed on a plan. I dove underwater and swam toward the entrance. Todd, being the stronger swimmer, dove after me, caught up with me and held my hand. We proceeded into the cave together. I watched the top of the cave as we swam through. Soon I could see where the rock rose out of the water and the surface of the water beyond. We rose up to the surface and broke through into air. Time to breathe! We were in a dimly lit cavern. From the inside, the underwater part of the cave is a beautiful blue. The water surges into the cavern and I had to continually pop my ears to keep them equalized. As the air pressure in the cavern lowers, a fog forms. Then the water would surge in again and the air would become clear. The pressure changes were a bit difficult on my ears, so it was soon time to leave. Being able to see to the outside of the cave made exiting much easier. But the whole way out, my ears hurt. I swam along as fast as I could, which felt like swimming through molasses. I watched the top of the cave and thought, "my ears!" I got close to where I could finally ascend thinking, "my ears, my ears, they hurt!" Finally I could rise to the surface and, oh yeah, breathe again. I laughed and breathed. My ears no longer hurt. I was happy with my accomplishment.
The other cave is Swallows Cave. This cave is both above and below the water making for an easy swim into its majesty. There are little birds in the cave, but they aren't swallows. I'm pretty sure they are swiftlets. They were darting all around above our heads, singing and chirping, while we swam around enjoying the afternoon light coming into the cave. The cave not only soars above you with many interesting rock formations, it also drops away below you. The afternoon sunlight shining down into the water and reflecting off the water's surface lit everything in shades of blue. I could have spent much longer exploring, but unfortunately it was time to head home.
We thoroughly enjoyed our time in Vava'u and spent more then a month getting just a taste of these beautiful islands, a wonderful reward after many ocean miles and exposed anchorages.
We haven't been keeping a good trip log due to the lack of internet cafés. We still need to write of celebrating our anniversary in Aitutaki, our interesting week at Palmerston Atoll, and celebrating my birthday at Niue – one of our favorite stops. Between Aitutaki and Vava'u, I had the fun adventure of battling a bladder infection which resisted three different antibiotics, but was finally killed in Vava'u. The medical facilities on small islands are less than premier. Civilization definitely has many advantages.
We are currently at the island of Tongatapu, in the harbor of Nuku'alofa, the capitol of Tonga. We are getting ready to sail to New Zealand and will hopefully depart tomorrow. Watch our progress on www.bitwrangler.com/yotreps. This passage is generally one of the more challenging in the South Pacific. But New Zealand will be worth it. We are looking forward to Kiwiland.