After playing in the Vava'u group of Tonga, Mandolin, with Todd, Ellen, 3 teddy bears, a dog, a platypus and two moose on board, finally departs for Tongatapu the capitol island of Tonga. Just after dark, we turn on the radar and raise anchor. As Todd watches our course, I (Ellen) download yet another weatherfax. Most of our friends departed a few weeks ago when it had still been raining most days. The weather turned sunny and warm almost the day after they all left. We had enjoyed these weeks of fun in the sun while they waited at Tongatapu for a weather window to New Zealand. Perhaps we had waited a bit long as the rain had returned the last few days.
I look at the weatherfax and decide that perhaps those dips in the isobars that stop near our location signify the dreaded STCZ: Southern Tropical Convergence Zone. Convergence means convection, and convection equals rain, squalls and lightning. Hmm, looks like were about to sail right into it. So much for an easy thirty-six hour, plus or minus, ride to Tongatapu.
We motor out in light air and soon raise the main to motorsail. A smell of burning wires causes us to turn off the motor less than a half-hour later. We raise the genoa and are sailing nicely when the GPS turns off.
"Todd! The GPS isn't working." I tell Todd who is standing at the foot of the companionway, close enough for me to reach out and touch him.
No response from Todd.
I push the switch for the cockpit light to look at the GPS better, but the light doesn't turn on.
"Todd, the light won't turn on either."
No response from Todd.
"Todd!!"
I don't know how I could see Todd's face on that black night with none of the lights working, perhaps he had a flashlight on. The look on his face said,
"All circuits are presently engaged in problem solving."
I've learned over the course of time that this look also means,
"I am non-vocal right now; and even though I appear to have not heard your question and even appear to be oblivious of your presence, in fact I have heard your question and will answer it once I become vocal again. Please be patient."
Waiting for Todd to become vocal again is like waiting for a computer to finish some processing during which the keyboard and mouse are unusable. I want to interact, but get no response.
Todd's face transforms from computer to human being. He turns to me and says,
"I turned off all the circuit breakers, which is why the GPS and light don't work right now. The problem is that even though everything is off, two amps are still being drawn from the batteries."
Problem indeed. That kind of amperage draw along with our navigation lights, when we turn them back on, would drain our batteries in less than a day. The amateur radio and the bilge pumps are wired directly to the batteries, but none of them were on. A little more critical thinking and Todd realizes that the burning smell must have been the only other item directly wired to the batteries: the alternator. A few disconnected wires later, we no longer had the extra amperage draw and we also could no longer charge our batteries using the engine. Thank goodness our solar panels will keep us topped up as long as the sun shines a bit. We are not far from Vava'u, but we continue on. If we really need to, we can install our original alternator that we kept as a spare when we put a higher output alternator on the engine.
Next on the evenings entertainment was the STCZ. The wind became stronger until we were well reefed on a close reach. A few fun squalls got our attention during the night. We didn't see any lightening for which I was thankful.
The next day saw us almost close hauled on the wind under working jib alone. Luckily, we were in the lee of the Ha'api island group so the seas were fairly flat for the amount of wind we had: approximately 18 – 20 knots. We would need to turn closer to the wind later in the day to make our course to Tongatapu, but could not turn yet since there were islands and reefs still to be avoided. It was looking like we might even have to tack to make our destination.
The planned activity for late morning was deploying the sea anchor. No, conditions didn't suddenly go to hell in a hand basket, we really did plan to deploy the sea anchor to test out this system before our passage to New Zealand.
We raised the trysail (storm mainsail), dropped the jib and hove-to by tying the tiller to leeward, essentially stopping the forward motion of Mandolin. Todd brought the sea anchor into the cockpit and attempted to attach it to the anchor rode. Unfortunately, the swivel on the sea anchor and the swivel on the rode didn't want to be friends. They were sized wrong to connect together. No easy solution presented itself, so we eventually hoisted the jib and continued sailing with the jib and trysail. Our disappointment was tempered with the fact that at least we had discovered a problem we didn't know about before we actually needed the sea anchor system – the whole point of testing it out.
Once offwatch and in the bunk, I did a little critical thinking of my own. The anchor rode swivel certainly wouldn't attach directly to the sea anchor swivel. Well, what does the anchor rode swivel normally attach to? It attaches to chain. I knew that we had a few extra links of chain from a recent rigging repair. We could connect the swivels to either end of the chain. Solution found. It was getting late in the afternoon so we chose to postpone our practice deployment.
We hardened up to come close hauled on the wind. There's nothing quite like turning your home on its ear and then living that way for a while. As dusk approached, the working jib and trysail were too much sail, so down came the jib and up went the storm jib. The storm jib is really small.
"Is that all we get?" asked Todd.
A wind shift caused us to be off our course by 20 degrees in spite of being hard to weather. Mandolin was only making 3 – 4 knots over the ground. I didn't dare look at our velocity made good toward our waypoint as it would have depressed me too much. We hoped to be anchored the next day. We knew of other boats currently underway to New Zealand who also had winds and seas on the nose, but no relief in sight. I did not envy them.
Midmorning, when we had expected to be dropping anchor, we were still several hours from our destination and it was time to tack.
"READY ABOUT!"
We tacked, trimmed sails to weather and adjusted Helmsley, our monitor self steering vane. Our GPS had been telling us to turn left 80 degrees. Now it was telling us to turn right 80 degrees. Ouch. Mandolin usually tacks through about 100 – 110 degrees, but contrary currents and reduced sail causing us to sideslip a bit so we tacked through 160 degrees.
After a few hours we were able to tack back. The wind shifted in our favor and we were able to sail the rest of the way on this final tack. Once in the lee of the island, we hove-to while Todd installed our spare alternator. We then motored the rest of the way and anchored an hour before sunset. Salty and tired, we were thankful that our little boat had performed well. It was a fine shakedown before the challenging sail to New Zealand.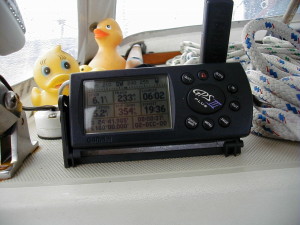 [Todd writes] Ten days were spent in Nukulofa, Tongatapu while we watched for a weather window and readied Mandolin for the notoriously difficult 1100 mile passage. As it turns out, we had one of our best and fastest passages to date. We left with a stationary front between us and Minerva reef. For the first day we sailed with Northerlies and even flew the spinnaker for a few hours before we approached the front and the wind died. For the next 20 hours we motored under grey drizzly skies. Before we arrived at Minerva reef we were sailing again in a Southeast wind. As we were heading Southwest this was a terrific beam reach. Since there was nothing on the horizon in the way of lows and fronts we decided to press on instead of waiting out another weather cycle inside the reef at Minerva. Good decision. For the rest of the trip we had basically a reach. Sometimes a close reach, sometimes a broad reach, and some light wind where we motorsailed. The gods must have been smiling on us because not only was the wind cooperating but we also had a current with us most of the way. During this passage we crossed into the eastern hemisphere. So now our longitude reads 180 degrees then 179 East etc. Less than eight days after starting we sighted the lighthouse on Cape Brett just south of Bay of Islands where we would check into New Zealand. Ellen and I were seriously impressed with Mandolin's performance. We arrived one day before at 38′ cat schooner that left over a day ahead of us. "Saros" a racy Dufour 35 left a few hours after us, and arrived two and a half days after us. We also arrived the same morning as two 40′ French sloops that left the same day as us. Go Mandolin. We did have a clean bottom, and most of the trip was spent under a double reefed main and a reefed jib. This was a very fast sail plan for us as both sails had a nice flat shape. The boats with roller furling had some or most of their jibs rolled in resulting in a baggy sail shape that tends to heal the boat over more than driving forward.
[Ellen writes] For the entire trip, we pulled down weatherfaxes several times a day to keep a close eye on any developing systems. The weather systems in this stretch of ocean have caused more than one tale of woe. We hoped to not see a gale, but we assumed we would probably have at least adverse conditions for some of the passage. More than halfway to New Zealand we had been having the most fantastic sailing so far in the South Pacific. However, the weather gurus started predicting a low to form southeast of New Caledonia and to move either SSE or SE. This system had the potential to be a Very Bad Event. We had been motoring conservatively in light airs when we first heard the predictions; but with this news, we throttled up and got a move on. Just over a day later, we were zooming along again under double reefed main and the genoa reefed down to a working jib. 20 – 25 knots of wind on or just forward of the beam had Mandolin flying along at 6.5 knots. Weee. The low developed much slower than expected and was well behind us by the time it did become a weather system.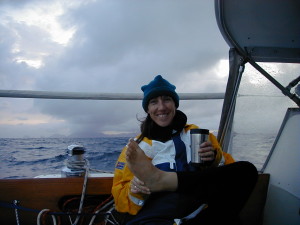 By day six the weather was finally turning cold. I finally put on pants that night and then went looking for a ski cap! We had pulled out the down comforter several days before for nighttime offwatches, but now it was being snuggled under at any time of day. We had pulled out sweats and hats but still haven't figured out that it is possible to sail not barefoot. Shoes? We don't need no stinking shoes! Even at 33 degrees south we still didn't have shoes on yet.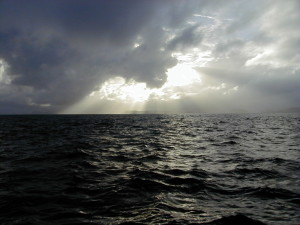 I was on watch for the dawn arrival. The light at Cape Brett had been flashing its welcome for several hours. As the sun gave the first hints of day in the east, I kept looking for land in the west. I knew land was close, but it looked like a large cloud bank. The Maori name for New Zealand is Atearoa – Land of the Long White Cloud; it was living up to its name. We had been hanging out down below and popping our heads outside every 15 minutes for most of the passage. But with landfall approaching, I wanted to be outside for that first sight of land. Brrrr, was it cold! I went in search of my foul weather jacket. So now I have on a Patagonia capilene shirt, cross country ski pants, a windproof fleece jacket, a fleece ski cap, and a foul weather jacket zipped all the way up with the fleece-lined collar velcroed shut around my face and neck. But I still didn't have any shoes on yet!
The sky became more light and the cloud bank more visible. I looked to my right and saw that the puffy clouds had formed into a rough rocky outline down at the water. I looked to my left toward the Cape Brett Lighthouse and could see Cape Brett itself as well as Motukako Island and Tiraru Island. Land. New Zealand. Sea birds called out an early morning welcome, the cold air was fresh in my face and Mandolin sailed on calm water toward this season's final destination. Tears pricked my eyes. We had made it. Mandolin had proved herself to be a fine vessel and had taken good care of us.
Sailing from Mexico to the Marquesas, I had wondered if I would cry when we finally sighted land again. I didn't cry; I jumped up and down, hooted, hollered, laughed, and hugged Todd till he thought his ribs would break. The intervening landfall emotions were everything from relief at being done with another passage to the excitement of a new island to explore.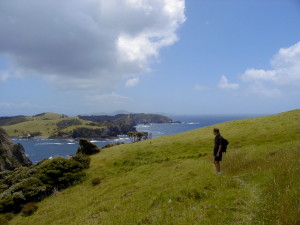 But now we were sailing into New Zealand, the completion of our first season of ocean passage making. And a fine season it had been. The tears dried on my cheeks in the cold wind while a satisfying sense of accomplishment burned in my belly.
LAAAAND HO!!