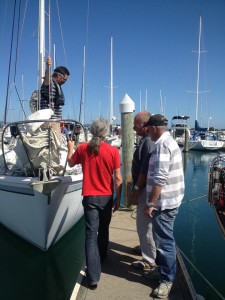 After months of preparation and finding the right time to sail Mandolin to its new port of call in Fiji, we finally cast off the dock lines in Tauranga, NZ at about 3 pm on the 7th of October. Bruce and Barry as experienced skippers plus Steven made a fantastic crew. The weather forecast was good for the entire journey – a perfect time to get underway.
Daily updates on the position of the vessel for friends ashore showed that Mandolin was averaging 5.5 knots . At one time there were 40 knots of wind for about 6 hours , but otherwise the weather was good until we reached Minerva Reef after 8 days en route. We rested for two days in Minerva Reef sheltered from the swell – a welcome break.
At that time there was an unexpected tropical depression forming just north of Fiji. The system initially was moving south – right for us – but then it veered SW and eventually dissolved. I believe it was thanks to the many prayers that were prayed at the time. Jesus calmed the storm again!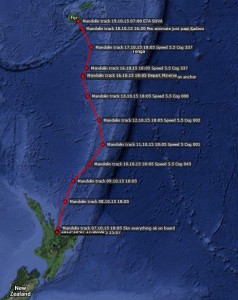 The last two days of sail were rough with much water washing over the boat , but Mandolin handled the seas very well. The crew was to happy to reach Fijian waters and sailed into Suva harbour at 3 am on Monday morning, 19th of October. The crew was a little frazzled, but well and relieved to be in port. A wonderful welcome ceremony from the YWAM Fiji team made the crew feel very special. The next chapter for Mandolin has begun!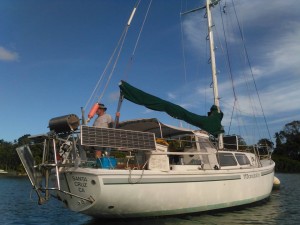 What is next?
We were kindly given the use of a hurricane-proof mooring just outside of Suva in Lami Town. Mandolin will be moored here for several months before embarking on trips to the outer islands for ministry. Three main reasons for this are as follows:
It is hurricane season now in Fiji and we do not want to endanger the safety of boat and crews.
We are still negotiating with government officials about the legitimate use of the boat. We are trying to get the boat in duty free due to the nature of what we want to do. Otherwise there will be high Import costs for the boat which we are trying to avoid. The negotiating will still take a few more weeks.
We need to do some unexpected repair to sails and hull. During the journey from New Zealand, the jib sail ripped in several places due to age. We also need to re-seal all the deck fittings. Raising money for the repairs and doing the repairs will take a couple of months.
Prayer-points: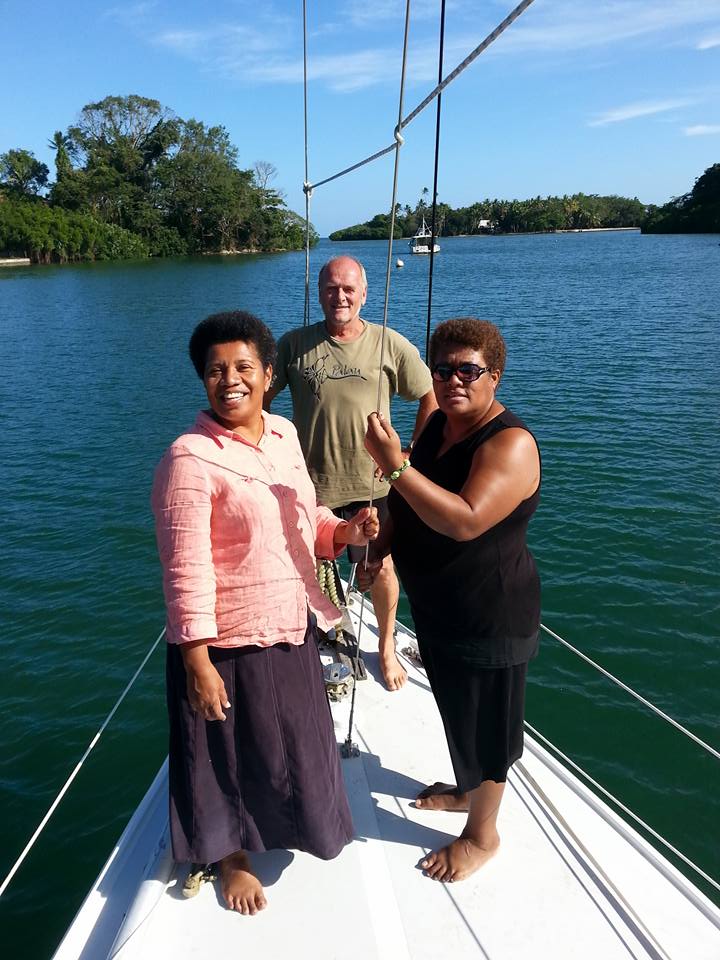 Gratitude for the involvement of many people in this project.
For favour with the customs agency in Fiji to allow Mandolin to stay in Fiji long term.
For favourable weather conditions in Fiji – that there will be no major hurricanes that could threaten the safety of the boat.
For the release of finances for a new sail, repair of autopilot, new GPS/chart-plotter, insurance coverage in Fiji and other expenses necessary to begin ministry. We need to raise about five to six thousand dollars in the next couple of months.
THANK YOU for praying, giving financially (tax-deductible donation can go via YWAM Honolulu) , and for being an integral part of what God is doing in Fiji.
Ministry Plans for 2016
YWAM leaders in Fiji together with church and government leaders have been seeking to bring biblically based community development to the outer islands of Fiji – mainly the Lau group (a 36 hour sail from Suva) . These outer island communities are remote and isolated from the rest of life in Fiji. We want to bring the love of Jesus to these communities by doing the following:
Conduct Biblical Education & Leadership Training (BELT) seminars – level one, two and three.
Introduce sustainable aquaculture and agricultural technologies.
Offer medical services.
Give the call to missions.
Strengthen families through all of the above.
All this shall be done in collaboration with members of the larger Body of Christ and the Government Ministry of Rural development in Fiji.
We want to start by running a BELT seminar on the main island in Fiji training more Fijian speaking BELT teachers and then taking the first trip to the outer islands in early February depending on weather conditions. The hurricane season is typically finished in April. By then we are expecting to fully implement our plans for trips and ministry to the outer islands of Fiji.