"What happened to you guys, where have you been?" everyone has been asking.
No, we haven't fallen into a black hole, but it may seem like it. We have been making the transition from the cruising lifestyle to a normal(?) lifestyle. Accordingly it seems that we have much less time on our hands and haven't been very good at keeping in touch.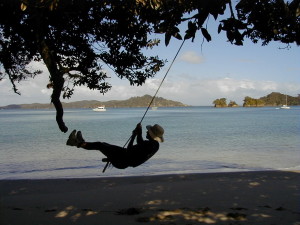 After arriving in the Bay of Islands, New Zealand we checked in with Customs and Quarantine and were impressed with how well we were treated through the painless process of entry into a first world country. For about three weeks Mandolin bumbled around the Bay of Islands at different towns, islands and anchorages enjoying the daysails. Christmas was celebrated with cruising friends we had just met as well as some we had known for years. We sailed south to Whangarei over New Year's. Here we could go shopping in a huge grocery store. We hadn't seen such a big one since Tahiti and everything we could possibly need for the boat and repairs was within walking distance. Unfortunately, the city traffic was as bad as the city advantages were good. Drivers seem to care nothing for pedestrian safety and walking a few blocks meant risking your life.
At this point we had to start thinking about the future. What do we want to do in New Zealand, how long to we want to stay, where do we want to base ourselves? Jobs were definitely needed, as we have not worked for well over a year. After much thinking we came to the conclusion that we want to spend at least a year and possibly several in New Zealand. However due to boat importation and work permit regulations the easiest way to accomplish this is to become legal residents. While this is an expensive and long drawn out paper chasing process, we feel it gives us the most flexibility. When we travel to other places we can always return to New Zealand as residents. We will be able to get jobs as any New Zealander and the boat is not charged import duty. We still keep out US citizenship.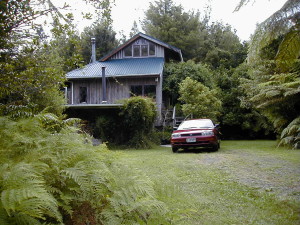 So with these thoughts in mind we started down the path. People need to be able to contact us, so we bought a prepaid mobile phone that comes with voice mail. The search for a car started and we spent well over a week before we end up buying a Toyota Camry station wagon, spending much more than planned. Next we did a road trip in search of a place to base ourselves that would allow us to live aboard Mandolin and find jobs that we could walk or bicycle to. Of course we didn't want to live in the big smoke (that's New Zealand for the big city) of Auckland. Even though most of the jobs are there, it is just too much for us. After two and a half weeks of searching we decided that the city Tauranga in the Bay of Plenty would work best.
Back at Mandolin we started the project of re-rigging the mast. This involved replacing all the wire, fittings, turnbuckles, chain plates and tang bolts that hold out mast up. Two and half weeks later and $1400 USD poorer Mandolin is ready for sailing again. And now we are really ready to go to work; at least our pocket books are crying for more money. Our friends Doug and Jennifer aboard Freya with their baby Majken have returned from California and we are able to spend a week sailing with them on the river near Whangarei.
We drove down to Auckland and met Buzz and Luanne, Todd's parents, for two weeks of travelling around New Zealand by campervan. Our first stop was Tauranga where we left our car so that it would be here for us when we arrive later via Mandolin. Soaking in the geothermal hot pools of Rotorua was next on our list of places to see before driving south to Lake Taupo, Napier, Palmerston North and finally to Wellington. Here we boarded the Interisland ferry and arrived in Picton on the South Island. Clams were gathered and eaten before a fabulous hike in the Abel Tasman National Park. We then worked our way down the west coast to Hokatika where the main jade carving is done. All the while the weather has been fabulous and we are able to get terrific views of the two glaciers that come close to the ocean. Wanaka was one of our favorite stops as it reminded us Lake Tahoe and Sun Valley at the same time. We passed on the bungy jumping but enjoyed watching it on our way to Queenstown. This was as far south as we got before heading back up to Christchurch where Ellen and I flew back to Auckland then caught a shuttle back to Whangarei where Mandolin was patiently waiting for us. After such a whirlwind trip, we are glad to sit for a day aboard Mandolin and not do much of anything.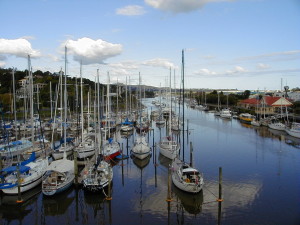 After a few days in Whangarei saying one more goodbye to friends and buying provisions for a few weeks, down the river we went on our way to Great Barrier Island. Again we were able to meet up with Freya for almost another week at Great Barrier before heading our separate directions, us to our jobs and them north eventually to Fiji and beyond. We also met some wonderful New Zealanders from Auckland aboard their vacation sailboats. We are enjoying being among a local cruising fleet again. We spent Easter out at Great Barrier and baked the traditional Baranek (Polish Easter lamb cake – a cake shaped like a lamb). Our friends from Freya, Portrait, Artemis, and Campbell Bay all helped us eat our first New Zealand lamb cake.
Lest you think New Zealand cruising is all easy and pleasant, we also rode out two somewhat nasty weather systems while at Great Barrier. The first was the remnants of cyclone (as in hurricane) Sosie downgraded to storm status, which blew 50+ gusty knots through our anchorage and caused two boats to drag anchor at 2:30 am. The next day was sunny and gorgeous, but the next night saw a 180-degree wind shift, gusts up to 40 knots and a powerboat drag into an aluminum sailboat. Luckily, there was no damage.
When we stuck out noses out to head south several days later, the wind was blowing a bit stronger than expected out of the SE (right where we wanted to go). But rather than turn around, we were able to sail hard to weather for ten miles and reach Port Charles on the Coromandel peninsula. In spite of the grandiose name, Port Charles is a beautiful bay with farms and a few houses, but no shops. We read several books each during the four days we waited for a wind shift. Finally the day came that the east wind eased up. Unfortunately, it eased up so much that we had to motor to Mercury Bay and the cute town of Whitianga. We are currently in Whitianga visiting with friends made on our first driving tour of NZ and waiting for the SE wind to turn around before heading south again.
Tauranga is about two day sails away where we have a berth at the Tauranga Bridge Marina waiting for us. At that point we can get serious about the job search. We will keep you posted.