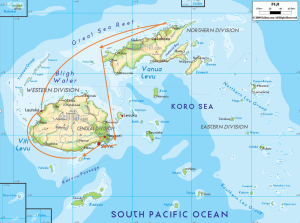 Last week a team of three sailed the Mandolin from it's mooring in Suva to Lautoka in the west of Viti Levu in Fiji in order to make preps and take on specialized crew to bring transformational teaching to the island of Kavewa.  Kavewa is a three day sail from Lautoka  in a remote location off the North Eastern shore of Viti Levu. We are working with the government to bring hope and blessing to this small community of about 120 people. Kavewa island has not had visits and help from people in a very long time.
There is a total of seven people involved in this outreach. Besides running the seminar we will be delivering water-filters for clean drinking water, do a survey for the establishment of a biogas-system plus train village teachers in how to assist children who have learning difficulties in school.
Thank you for praying for us during these next 3 weeks of outreach. We should be back in Suva at the end of August…..
We already stopped in Beqa Island on our way from Suva to Lautoka and made very useful contact with the village community. The other team visiting Vuma village on Ovalau will be going by public transport, running the same BELT seminar.