12 degrees 15′ South, 143 degrees 38′ West
With blustery winds we left Daniel's Bay on our way towards Ahe in the
Tuamotos. This passage was a nice beam reach for the three days, but then
the wind died and we motored for almost 30 hours.
14 degrees 32′ South, 146 degrees 21′ West
The approach to the pass at Ahe was done with a very alert Todd and Ellen
using all navigation aids they had available short of getting out the
sextant. Ellen could see some lights from the village while it was still
dark out. She turned on the radar and could see the atoll on radar at
11miles. The chart and GPS were very close which was a pleasant surprise
to us. Soon we were within the pass, Todd on the bow with polarized
glasses to spot coral heads and Ellen steering while calling out depths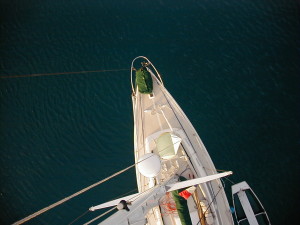 from the depth sounder. We cleared out the track log on the GPS so that
we could make a track back route to aid in exiting the atoll. Thanks to
the engineers at Garmin for including this feature. Once inside the pass,
the depth got as shallow as 14 feet before it dropped off again. Now we
spot the first marker but are puzzled by the rocks to the right of a
green. Wasn't the saying, "red right returning from sea"? Soon we found
a red marker and decided that this part of the world doesn't follow the US
standard to red markers on the right side of the channel and green on the
left as you are going inland. Still it's amazing how ingrained this is in
our heads. We found a calm anchorage in front of the village on the other
side of the atoll and enjoyed flat water at last. During our stay here, I
installed our new VHF antenna at the top of our mast and fixed the
mainsail track on the mast where the rivets had loosened up. A few taps
and machine screws solved the problem quite nicely. We also spent most of
a day organizing all our paperwork so that it fits into one small filing
cabinet, generating a huge bag of receipts, old magazines and other stuff
that didn't need to be aboard. After our time at the village, we found
Kamoka pearl farm to be empty, but Leon from the next farm came over and
invited us to go SCUBA diving, have dinner and spend some time with his
family. What a great experience to see the oysters hanging from lines
about 15 feet down. Later we dove outside the pass with 100+ foot
visibility. Soon the wind filled in from the southeast, now we are on a
lee shore. After a nervous night tied between two floats we cast off and
sailed for Tahiti. Between the 1 to 2 knot current and 20 knot winds we
had one of our fastest passages to date averaging 5.9 knots. The last
night we were sailing under the reefed jib alone still making good way.
Tahiti, Papeete:
17 degrees 17′ South, 149 degrees 22′ West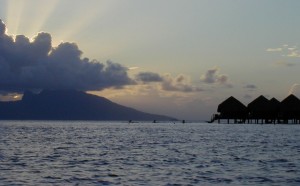 Civilization has caught us by surprise. The Continent store here has
everything including high prices as expected. It is a cross between
Costco and a supermarket. The availability of Costco, but you can buy
grocery store quantities. It's wonderful to have access to fresh veggies
for salads and a stir-fry with peanut sauce. In Papeete, I was happy to
find Christian Simon, a wonderful chiropractor, to undo the kinks I got in
Ahe and this last passage. The roulette trucks that serve dinner on the
wharf are not to be missed. We had a terrific Chinese meal and got to
watch them cook it, and everyone else's dinner, right in front of us.
Quite educational. We also caught Le Truck to the Museum of Tahiti, the
Gauguin Museum, the Harrison Smith botanical gardens (where we got to pet
2 Galapagos turtles), and Point Venus where Captain Cook observed the
transit of Venus across the sun on June 3rd 1769. Now we are ready to be
more remote as Papeete has not been nice to our wallets, but has been a
great stop.